Listen Up Cafe in Los Gatos, CA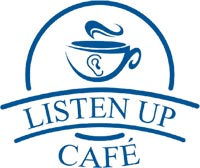 Join our Listen Up Cafe on Friday, November 9th from 10 am -12 pm for…
"HEAR for the Holidays"
Audiologist Dr. Christine Throm will be delivering a special presentation on hearing loss. Come discover how to get the most out of the holidays while dealing with hearing loss.
RSVP (408) 357-2565 to attend our informative seminar and enjoy great coffee and goodies!
Location
Los Gatos Audiology
15899 Los Gatos-Almaden Rd., Suite 8
Los Gatos, CA 95032
Upcoming Events
Friday, December 14, 2018 – Customer Appreciation Holiday Party
Donate used hearing aids and receive a free pack of batteries
Friday, January 11, 2019 – Ototoxicity & Sudden Hearing Loss
Friday, February 08, 2019 – Hearing with your Heart
National Battery Day (2/18/19)
Friday, March 08, 2019 – History of Hearing Aids
Friday, April 12, 2019 – Noise-Induced Hearing Loss
International Noise Awareness Day (4/29/19)
Friday, May 10, 2019 – Better Hearing Month
Upgrade & New Technologies
Friday, June 07, 2019 – Travel Tips
As one of the premier audiology practices in Los Gatos, CA, our team at Los Gatos Audiology also provides 5-star-rated hearing services to patients from Saratoga, San Jose, Campbell & Morgan Hill, CA, and surrounding areas.